How Kitchen Remodeling Can Increase Your Home Value
How Kitchen Remodelling Can Increase Home Value
Most realtors agree that nice and clean kitchens sell houses. With this in mind, we believe that kitchen upgrades and kitchen improvement projects top the list of factors that increase home value.
Aside from the obvious reason that it's what buyers want, a spotless kitchen accounts for overall home convenience and practicality.
There is no doubt that the kitchen is one of the most widely-used parts of a home. Some of the most essential household appliances and home amenities can likewise be found in the kitchen such as the refrigerator, oven, microwave, toaster, water heater, sink, and stove.
Aside from these, the kitchen may also serve as the dining area for the family, breakfast area, and storage area for various household items including groceries, cleaning aides, condiments, and other common household supplies. 
Needless to say, the kitchen serves as one of the most functional elements of a home. For this reason, it just makes perfect sense to pay some extra special attention to it if your goal is to increase the value of your home and improve its overall aesthetics.
How to Improve Your Kitchen
Remodeling your kitchen does not necessarily mean spending thousands of dollars to make it at par with the deluxe level.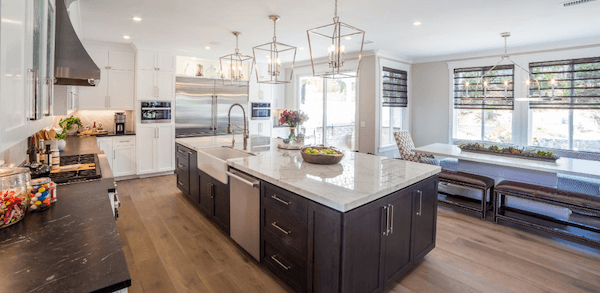 Given that kitchen remodeling projects average a return of investment that is just slightly better than fifty cents on the dollar, you must learn how to make practical decisions when it comes to this matter.
You have to think twice before investing too much money on major upgrades especially if minor cosmetic fixes and less expensive improvement projects can do the trick. Here's what we can suggest;
Nothing is more impressive within a household than a spotless and clean-smelling kitchen. Instead of major kitchen renovations, consider having your kitchen pipes checked to make sure that there are no leaks, moisture build-up, and unwanted water retention in deep-seated areas.
Pay attention to the presence of molds. A mold-free kitchen is basically a plus factor because it can ensure the safety, sanitation, and cleanliness of your entire home. 
Aside from molds, deep cleaning can also mean the removal of mildew and other deposits that tend to make the structures look dull, old, and worn out such as the tiles and surfaces. Deep cleaning of kitchen cabinets, storage areas, and pantry can likewise create a clean and refreshing vibe within the entire area.
Never underestimate the power of freshly applied paint. It can make anything look fresh, nice, and new again. So if you want to improve your kitchen, consider a complete and thorough painting job for the entire area.
If you want to make your kitchen look brighter and bigger, consider lighter shades such as beige, white, light yellow, or off-white. Avoid colors that can make the area look smaller and uninviting such as violet, red, black, and navy blue.
Installation of Shiny New Fixtures
Anything that shimmers and shines can add a subtle glow to a room. Investing in new and high-quality fixtures can make your kitchen look classy and elegant.
After a thorough painting job, it just makes sense to install new cabinet and drawer handles, faucets, and shiny metallic details wherever applicable for a touch of sophistication. These small yet necessary additions can actually create a premium feel to your kitchen.